Day of Relaxation at a Korean Spa - LIVE BETTER TOGETHER!
After the March for Babies Charity Walk on Saturday, April 25th, we are hosting an OPEN TO ALL GENDERS Korean Spa Day at Wi Spa. If you have never tried a Korean Spa before, you are in for a real treat! Unlike some of the other Korean spas around town, Wi Spa is open to all genders and families as well. Children under 12 years old are free and there is a play area for kids off of the general group room. Everyone is fully clothed in provided spa t-shirts and shorts in the general room.
The entrance fee is normally $25, but if we have a minimum group of 10 people, I can get everyone a discounted fee of $15. This is a great deal for what the spa has to offer. We will be officially meeting there from 1:30 pm – 6 pm, but the spa is open 24 hours a day and you can come at any time and use your special discount code to check in for the $15 rate that day. Once we have a guaranteed group of people, I will email the code to you. Please do be committed to show if you are going to attend so I don't end up having to pay the $100 difference for the group if we have no-shows.
This should be an awesome day to LIVE BETTER through relaxation, rejuvenation, and fellowship with other assemblers.

The coolest feature of this spa is a general use room that they call the Jimjilbang (pictured above). After you check in, you will go to the women's spa or men's spa to change into shorts and t-shirts that are provided and there are saunas, hot tubs, and relaxation areas in those private areas. Then you can head over to the  where we will try to meet up between 1 and 1:30 pm for lunch at the Korean restaurant. Menu here: http://www.wispausa.com/index.php?dispatch=pages.view&page_id=48

JADE SPA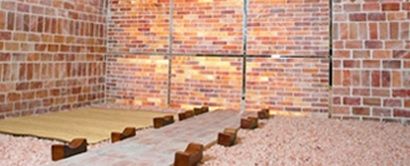 SALT SAUNA
The food is delicious and we can eat in the restaurant together or on the rooftop deck if the weather is nice that day. The Jimjilbang area features mats and resting areas and five exclusive sauna rooms, each replete with detoxifying, rejuvenating minerals, and best experienced in progression. Relax, and reap the powerful wellness benefits of our BULGAMA, SALT, CLAY, JADE and ICE SAUNAS. Access to all of these saunas, the restaurant, the Jimjilbang, the facilities in the women's spa and men's spa with hot tubs, etc. is all INCLUDED in your entrance fee. More info on the saunas here: http://www.wispausa.com/index.php?dispatch=pages.view&page_id=47
EXTRAS – NOT NECESSARY: Optionally, while you are there, you can also purchase services that include Acupressure, Nail Care, Body Treatments, Massage, and Skin Treatments. You can reserve your own services by calling 213-487-2700 or online here: http://www.wispausa.com/index.php?dispatch=pages.view&page_id=53
It is recommend that you make any additional service reservations at least 24 - 48 hours in advance, though you can also do this at check in if there are spots available. Prices are on the website with descriptions and if you purchase at least $110 of services, your entrance fee is waived.
If you have questions, please feel free to email me and we look forward to seeing you there!
WHEN
April 25, 2015 at 1:30pm - 6:30pm
CONTACT
Gina Kirkland · · 214-801-9685
7 RSVPS
---