June 17th Sunday Assembly - WeHo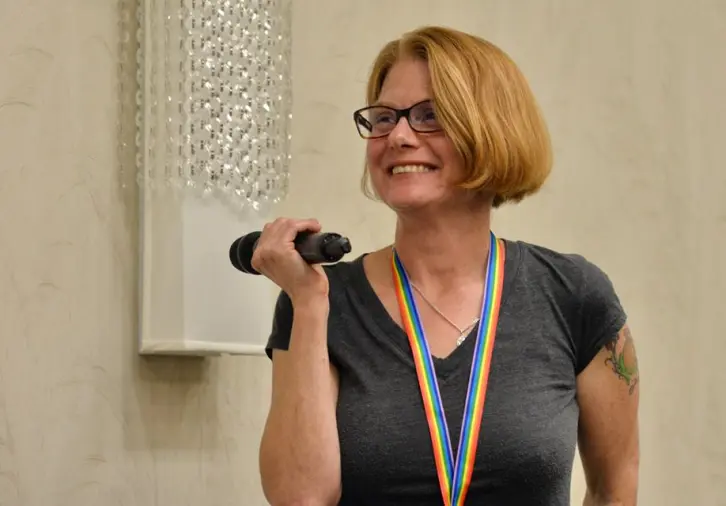 Where can nonbelievers turn in times of loss? How do we discuss death and comfort our secular friends and family members who are surrounded by well-meaning but discordant messages of afterlives, healing energy and gods' plans? 

On her own path to recovery from a tragic loss, Rebecca Hensler discovered that most bereavement organizations are deeply rooted in divinity. Seeking something that better serves people with secular views, she created Grief Beyond Belief, where people can share experiences and heal in a way that resonates with their worldview. She'll talk about how we can find comfort in each other and reach out to our secular loved ones in times of crisis with empathy and understanding.

Voices of Reason, the world's only atheist a capella choir, has been in the press a lot lately, profiled everywhere from the LA Times to George Takei. This Sunday, they return to Sunday Assembly LA to treat us to beautiful, science-based harmony.

Ryan Trout, Sunday Assembly LA's favorite Community Organizer, hosts.

Join us for this special Assembly at 11 am, and at 11:30 we'll have great talks, live music and secular celebration. Stick around afterward for coffee and, if you'd like, lunch down the road at Mendocino Farms.

Sunday Assembly is free of charge, and donations are gratefully accepted.

Everyone is welcome. Free childcare provided.

3 hours of free parking is available on a first come basis. The Southwest parking Lot off Santa Monica and the larger North Parking Lot off Fountain and Vista are both free and open to the public. 

Sunday Assembly is a volunteer-driven non-profit entirely funded by attendee donations. If you'd like to see SALA continue to develop positive secular community, please consider becoming a sustaining member: sundayassemblyla.org/monthly

About our Speaker:
Rebecca Hensler graduated Brown University, here she majored in Political Activism, in 1991. After a decade of work in AIDS activism and HIV prevention, she received her Masters in school counseling at San Francisco State University in 2002. She has spent the last 16 years as a middle school counselor, Dean and LGBTQ Support Liaison at James Denman Middle School.
--------
We could always use more volunteer helpers, starting at 9am. to set up signs, greet attendees, brew coffee and load out after the event, let us know if you can be on the team this month!
Want to sing your heart out from the other side of the stage? The Wonder-more Warblers is a for-fun choir that meets at 10:30am on the day-of to run through the songs. Sometimes we even have a rehearsal with the band before the day! Sign up here to learn more. 
There's a TON that goes into driving a thriving community--planning committees, event hosts, blog writers, social media posters, video editors and maybe something you're into that we haven't even thought of yet. If you'd like to be a part of the (figurative) magic of managing a science-based community, let us know!
Questions, feedback, special requests? Email us at info@sundayassemblyla.org!
WHEN
June 17, 2018 at 11am - 12:15pm
CONTACT
Ryan Trout · · 323-815-8783
67 RSVPS